Enter Optimi complete service

Enter Optimi is based on our in-depth customer knowledge and our 25+ years' experience in various IT environments – design, implementation, development, maintenance and automation.
Enter Optimi works like your own IT department managed with high professionalism, whose operations are always driven by the interests of your organisation. We secure the usability and availability of your IT solutions, as well as the compatibility and cost-effectiveness of your IT investments.
The regular optimisation included in the service protects your IT systems from unmanaged obsolescence and helps reduce your organisation's technology debt. Enter Optimi paves the way for the possibilities brought about by new solutions and supports the strategic goals of your business.
Each service of the Enter Optimi family has a dedicated team with deep knowledge of its subject area. The teams, led by champions, monitor the technology trends of their area of ​​responsibility, taking care of the development of their service, the delivery quality and optimal suitability for our customers' needs.
To be covered by the strategic IT development scope of the Enter Optimi model, it is enough to purchase just one service out of Optimi's entire range.
Enter Optimi – management advisor
Enter Optimi provides your organisation's decision-makers with access to constantly growing and versatile business-driven IT expertise. The operating model of our service ensures a realistic, management's view of the IT situation, the development of business trends and the opportunities offered by new information technology.
Enter Optimi is like your organisation's own IT advisory board: we support decision-makers and act as their sounding board in strategic IT development, investments, transformation and change projects, supplier and service management, risk assessments, the organisation's IT road map, and observations and development proposals produced by Enter Optimi services.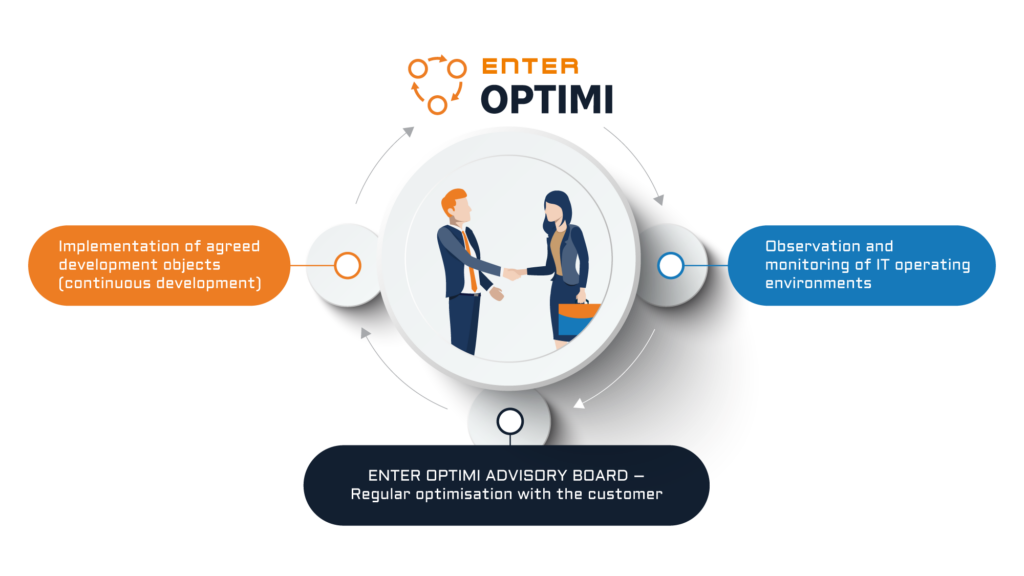 Enter Optimi services

Information security service. Enter Turva protects mobile devices, workstations and servers by preventing traditional viruses and information security threats, newer zero-day threats and ransomware, and internal data leaks and breaches. The service is based on Microsoft technology.

Backup service. Enter Varma boosts your organisation's recovery, from minor disruptions to large-scale disaster situations. It covers the recovery of data, workstations, servers and entire data-centre environments – and provides backup capacity. The services are based on Veeam technology.

Management and maintenance service. Enter Hallinta takes care of the proactive maintenance of your organisation's entire IT infrastructure and of its change and life cycle management. The service covers mobile devices, workstations, servers, storage systems, network devices, operating systems and application software – in both local and cloud environments.

User support service. Enter Tuki helps you when you have IT problems, face changes or need advice. Personal help for both end users and your organisation's own IT experts.

Monitoring system as a service. Enter Sensori provides a real-time overview of business-critical systems and gives advance warning of impending disruptions. It is also a dashboard for operational management, allowing for a quick check of the status of business processes.

Monitoring service. Enter Valvomo monitors the customer's IT environment and reacts to deviating events, information security observations and alarms. It routes reactive measures to Enter Tuki, the organisation's own IT specialists or third parties. As its data sources, the service uses Enter Sensori and Enter Turva.
Automation service for credentials. Enter Ruutuvihko eliminates manual work in the life cycle management and maintenance of user accounts. It ensures users have the correct access and usage rights and boosts your organisation's information security. The service supports both local and cloud environments.

Archive automation service. Enter Arkistointi transfers documents and their metadata automatically and free of errors to the archive system of the customer's choice. The service can be connected with any system, as long as the interfaces of the source and target systems support the reading and transfer of documents and metadata.