A proactive monitoring solution for the IT environment
With the Enter Valvomo service, your IT environment and its critical points are covered by active monitoring.
Enter Valvomo connects to the Enter Sensori and Enter Turva services. It includes continuous or periodic monitoring performed by Enter's specialists according to the customer's agreement, as well as response to observations and alarms.
You decide the level of monitoring
The Enter Sensori and Enter Turva services enable the monitoring of virtually any system, application, process or information security event, and transmission of observations to the Enter Sensori service.
Once the monitoring items relevant to the organisation's operations have been identified, you can choose continuous monitoring, periodic monitoring or the Enter Mini Security Operations Centre service level according to how critical the items are.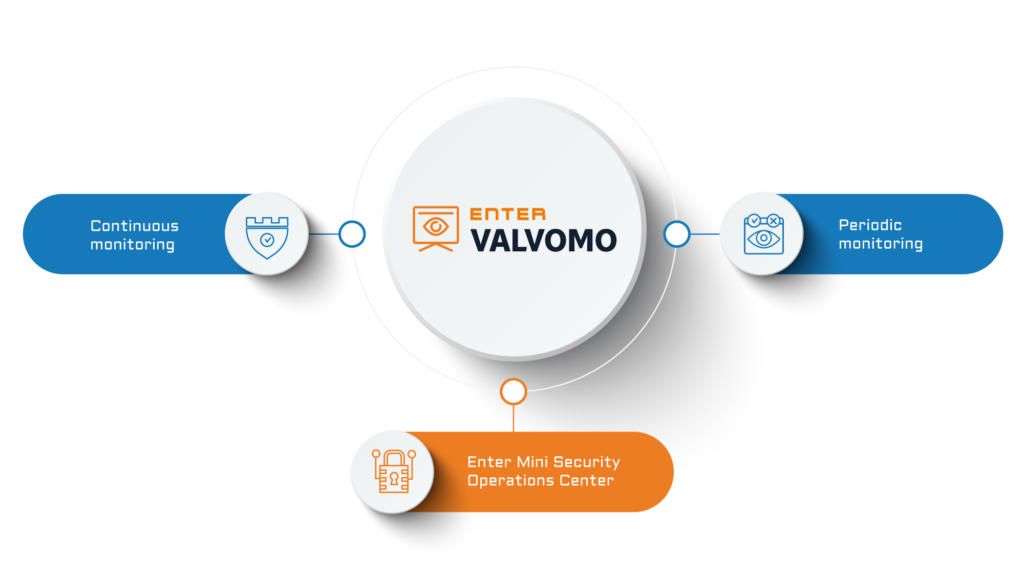 Customer-specific monitoring
Depending on the operating environments, the monitored items and their criticality, your organisation can choose a monitoring service with a suitable scope.
Continuous monitoring
In continuous monitoring, Enter's specialists continuously monitor and process the observations transmitted to Enter Valvomo throughout the agreed service period. Continuous monitoring is typically used to verify the availability and usability of business-critical applications, systems, and network and messaging connections.
Periodic monitoring
In periodic monitoring, Enter's specialists check and process observations forwarded to Enter Valvomo according to a regular process – daily or weekly. Enter Mini SOC is also based on this service model.
Enter Mini SOC (Security Operations Center)
Enter Mini SOC is a service option lighter than the full-fledged and extensive SOC service. With it, your organisation can cost-effectively enjoy features of the SOC service, such as the processing of information security observations and alarms.
Enter Mini Security Operations Center meets the information security needs of a small yet demanding organisation. The advantage of the service is its lightweight and economical implementation – while, however, meeting several definitions of a strict information security policy.
Enter Turva + Enter Valvomo = Enter Mini Security Operations Center

Join the Enter Optimi service experience.