Infrastructure, endpoint and application management
The areas of the Enter Hallinta service are Infrastructure, Endpoint devices and Applications. The service covers the key requirements and needs of IT management, whether they are technical, such as regular system maintenance, or administrative, such as forecasting and planning of IT investments. For financial management, the Enter Hallinta service provides easy and up-to-date information on devices and software whose end-of-life needs to be financially prepared for.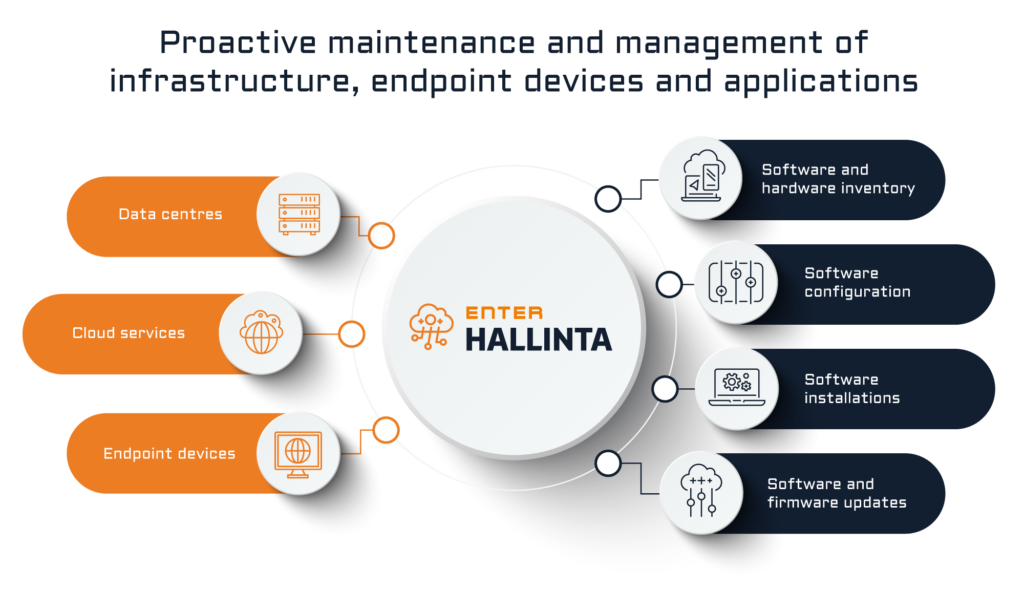 Infrastructure management
Infrastructure management covers servers, disk systems and active network devices, such as firewalls, switches and wireless network access points. The service includes proactive maintenance, reactive support in failure situations and change management.
The infrastructure management service works in local, cloud, IaaS and data centre environments.
It is recommended to manage and monitor cloud environments regularly. In addition, the network environments at physical offices must be taken care of, even if the applications and data used by the organisation were entirely in cloud services.
Endpoint management
Enter Hallinta enables the centralised unification of Windows and macOS computers, as well as iOS and Android mobile devices in the information environment.
From the organisation's point of view, management of endpoint devices enables highly automated deployment of new computers and mobile devices, centralised management of endpoint devices and their configurations, and an automatically updated hardware inventory of endpoint devices in the IT environment.
Endpoint device management enables easy commissioning of a new computer or phone with standard software – without the help of IT support. For the end user, it is enough that they know their login details and can use strong authentication.
If an endpoint device gets lost, the organisation's main user, an Enter specialist, or the user themselves can lock the device and wipe all data on it.
Application management
Application management takes care of the centralised and automated management of software and security updates for third-party software specified by the organisation, such as Adobe Acrobat Reader, Autodesk AutoCAD, or VMware Workstation.
The end-users' Windows computers will always have the correct software versions specified by the organisation, and if necessary, software security updates can be installed on the machines very quickly. On the other hand, installation schedules for software and information security updates can be scheduled outside working hours for minimal disturbance to the users.
Monitoring and support of the service operation
Join the Enter Optimi service experience.